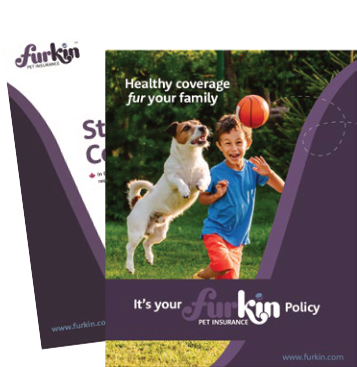 We love well informed pet owners.
We encourage all Furkin members (and future members) to read the Furkin policy, to get a full understanding of our coverage, waiting periods, limitations, and exclusions.
Reimbursing your claim is a priority
Each form includes instructions on how to complete and submit your claim request. Complete the fillable form, and send it to us with copies of your paid veterinary fees or other invoices that may be applicable for that claim type.
About 50% of claims are processed within 24 hours and most claims are processed within 7-10 business days. Some more complex claims can take longer as we may need to contact your veterinarian for more information.
See page 12 of the Furkin Policy for how claim reimbursements are calculated.
Additional Member Services
For any Medical Emergency which involves life or limb or inability to breathe, contact your emergency hospital or Veterinarian for immediate support.
24/7 Telehealth*: 1-888-453-1005
This toll-free telephone service gives you access to veterinary nurses 24 hours a day, 7 days a week. They will be on hand to support you if you need to discuss your concerns regarding your pet's health before taking them to an emergency hospital, or even prior to visiting your regular veterinarian.
PLEASE NOTE: Telehealth cannot provide information about your policy details or coverage.
On top of Telehealth support you also receive free access to Petriage – an online pet 'triaging' software application. Rather than searching randomly through the web trying to find credible advice, Petriage gives you instant, actionable info about your pet's health through their dynamic mobile app.
Simply set-up your Petriage account by visiting the Apple App Store or Google Play Store and download the Petriage app to your device.
*Telehealth Support is offered through Vetsdirect Limited and Petriage is offered through Petriage Inc